TROPHIES OF ATMOSPHERIC INTELLECT
Maxime Christiaensen invites Boy Erik Stappaerts
01.09 – 15.10.2017 at DMW Gallery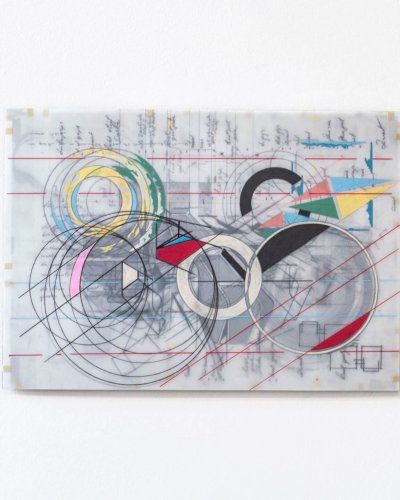 'Trophies of Atmospheric Intellect' is the result of a unique encounter between two artists from different generations. At DMW Gallery, the works of Maxime Christiaensen and Boy Erik Stappaerts engage in a dialogue – a symphony – about the (re)current state of abstraction.

"Aesthetically speaking, abstraction is closely related to the historical avant-garde, who devised it to rebel against a bourgeois or academic notion of (figurative) representation. Along with the grid as a recurring motif, movements ranging from Constructivism and Futurism to De Stijl and Bauhaus were deeply fascinated by the machine during the heydays of rapid industrialisation. This fascination is apparent from the preference for repetition and the use of standardised patterns, colours and textures. They express the latent wish for the creative act to become mechanical, and the artist to somehow become the machine. […]

The ever-increasing use of and dependence on new technologies severely jeopardizes our common-sense understanding of creativity. For, if the latter doesn't reside in the act of making (a point that had already been made by conceptual art) and can even largely be outsourced, what is left of it but a historically based, romanticized figment? What will remain of the 'work' or labour in the work of art, or, for that matter, of work in general, when faced with the prospect of full automation and algorithmic calculation? Will art stay the exception to the rule? These are questions we should be asking ourselves when thinking about present-day forms of abstraction. The grid is no longer just a pattern rendered on a canvas or in a sculpture; instead, it is something that we currently seem to inhabit."

Maxime Christiaensen and Boy Erik Stappaerts

Christiaensen and Stappaerts concluded their collaboration at DMW Gallery with the presentation of a unique collaborative edition. For more about this edition and its availability, see the section 'Duo Show Multiples' on this site.