STONE AND A GLASS / TONGUES OF FIRE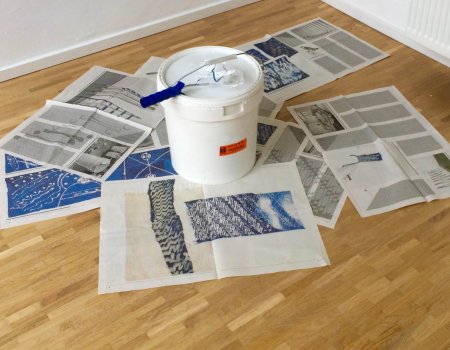 The monochromatic graphite works of Denitsa Todorova combine the abstract and the figurative to reveal a new vision on drawing as an artistic medium. The title of the exhibition, 'Stone and a Glass' is a perfect descriptor of the artist's unique approach to drawing. The (ultimately impossible) relationship between the destructive force of the stone and the easily shattered fragile veneer of glass reflects the inherent contrast in Denitsa's drawings, whose ostensible frailty belies the powerful, contrasting images beneath them.

'Tongues of Fire' (Lidah api) is the old name of a Javanese batik pattern with hundreds of variations. In the exhibition by the same name, Ada Van Hoorebeke displays interpretations of the Javanese pattern along with sculptural works made with batiked canvasses on discard materials. Batik is a technique of wax-resist dyeing, where hot wax is painted directly on the fibres of a canvas, leaving the remaining surface to be dyed in different colour baths. After extraction of the wax with hot water, the material can be used in many different ways. It is easy to see why many Europeans traveling to Java in the 16th century confused batik with painting.

Denitsa Todorova and Ada Van Hoorebeke concluded their collaboration at DMW Gallery with the presentation of two multiples. For more about these multiples and their availability, see the section 'Duo Show Multiples' on this site.