YOU, ME AND YOU AGAIN BY ME
Timo van Grinsven invites Juan Pablo Plazas
19.01 – 29.01.2017 at DMW Gallery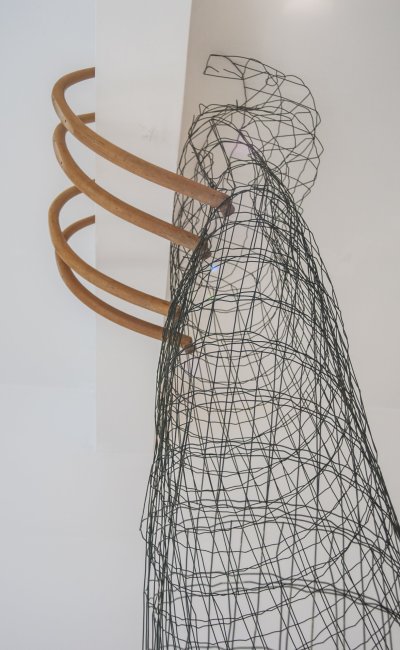 'You, Me And You Again By Me is a collaborative act between Timo van Grinsven and Juan Pablo Plazas performed at DMW Gallery.

"Who said that dancing only concerns movement? What's the point where moving becomes dancing? How about still dancing when dancing still? Haven't you heard of it? Let's look at the basics of dancing:

To dance solo is very elementary: the principle is moving along with the air, but don't be afraid, air is not your enemy.

To dance with another person requires interacting with his/her weight, volume, flexibility, tempo. It also demands guessing what the other person is thinking: When you move your left foot, I move my right hand. Every step is an invitation to react and purpose. This requires intense concentration within timing reactions, respect and dare. It's not easy but it's been highly recommended.

But, wait! Don't get us wrong, we are not dancers, we do sculptures and installations. We mix ingredients, move them around and make sure they are not fixed. Our sculptures don't move, their aim is to stand still, although in the process they have moved many times in space or in themselves. Often we present them standing still, just because we want you to move around them.

What is then the relationship between sculpture and dance? Isn't it itself a paradox? A sculpture has no place to go, just like a dance. To move is "the process of going from one place to another" with a specific purpose. But with dancing there is no purpose involved in the act of displacing. We often dance when we don't want to be anywhere else. We walk tiny circles without a fixed destination, inside a space in which we are the borders. Here, curtain rules are accepted because everybody knows them:

'Remember that curtains are for framing, not for privacy'. We show our body as it moves without knowing how it looks. We feel the movement, and it feels good. 

Please mind your body and the place that it takes
Please mind the sculpture and the place that it makes."

Juan Pablo Plazas & Timo van Grinsven

The duo show 'You, Me And You Again By Me' was concluded with the presentation of a collaborative multiple by the artists. For more about the multiple and its availability, see the section 'Duo Show Multiples' on this site.