DE HELD ZWEMT ALTIJD STROOMOPWAARTS
Warre Mulder invites Tom Poelmans
14.04 – 07.05.2017 at DMW Gallery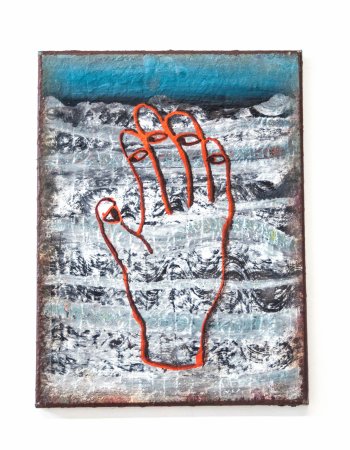 Colourful characters in sculpture meet paintings toying with art traditions for a duo show by Warre Mulder and Tom Poelmans at DMW Gallery.

The sculptures of Warre Mulder playfully combine form and technique. From combinations of ceramic, wood and synthetics, colourful creatures originate that appear to hail from the world of the absurd. Warre Mulder sets out to imbue his sculptures with a soul. To reach this goal, the artist samples from the vast archive of sculptural traditions, disregarding any distinction between religious sculptures and the spirited world of children's toys.

Invited by Warre Mulder, Tom Poelmans operates in a pictorial no man's land of sorts. His paintings function as depictive pin-pricks to the traditions of the art of painting, but appear to escape every conceptual or pictorial frame. 'Style', for one, does not seem to interest the artist. Repetitive, abstract, almost painfully 'decorative' compositions pop up next to hyperfigurative scenes where captions would seem to undermine every form of gravitas.

Warre Mulder and Tom Poelmans concluded their collaboration at DMW Gallery with the presentation of two multiples. For more about these multiples and their availability, see the section 'Duo Show Multiples' on this site.