ALLEY OF THE UNIVERSE / AFRI LUNAR STATION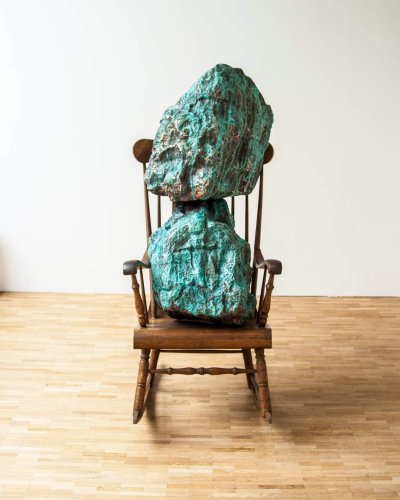 The exhibition 'Alley of the Universe / Afri Lunar Station' brings together two new projects by the Romanian artist Marius Ritiu and Kiluanji Kia Henda from Angola. Their projects reinterpret elements from the diverse cultural and historical backgrounds of the artists into fictionalised short stories either set or originating in outer space. Ritiu transforms the ancient myths of Transylvania into a mysterious tale of vampires and sentient objects from space, while Kia Henda uses the history of an ill-fated Angolan space adventure to tell a story about an African basis on the Moon in the 1970s.
"The story behind "The Alley of the Universe" has as a central figure a vampire who grew up on a street called "The Alley of the Universe" situated in Transylvania. The vampire feels an overwhelming impulse, (other than the usual one, which is to go in search of blood) to look for discarded and forgotten ordinary objects like cigarettes, spaghetti, a dirty tennis ball, broken bird houses and a pitchfork, among other things. Somehow all these ordinary things found themselves, unknowingly, first in outer space and then shortly thereafter falling to Earth, randomly, without reason. Now mysteriously all these ordinary objects fell to sites situated near observatories around the world in cities like Jersey City, New York, Porto, Paris, Bucharest, Lisbon. And on Earth the ordinary objects are suddenly alchemically transformed, covered in copper, statuesque, becoming really important pitchforks, bags, shoes, and most of all really important hangers. And interestingly enough after they all fell to Earth, these inanimate objects also became suddenly sentient, so they could not only think, but they could feel emotion and this unknown force that drove them to all come together in some way. Eventually they found each other in this new Alley of the Universe, living there happily ever after." (excerpt from a conversation with curator Kathleen Forde at ISCP Residency Program, New York, 2018)
Kiluanji Kia Henda (b. 1979 in Luanda, Angola) employs a surprising sense of humour in his work, which often hones in on themes of identity, politics, and perceptions of post-colonialism and modernism in Africa. Practicing in the fields of photography, video, and performance, Kia Henda has tied his multidisciplinary approach to a sharp sense of criticality. A profound springboard into this realm comes from growing up in a household of photography enthusiasts. Furthermore, his conceptual edge has been sharpened by immersing himself in music, avant-garde theatre, and collaborating with a collective of emerging artists in Luanda's art scene. In complicity with historical legacy, Kia Henda realises the process of appropriation and manipulation of public spaces and structures, and the different representations that form part of collective memory, as a relevant complexion of his aesthetical construction.
In 2012 Kiluanji Kia Henda received the National Award for Culture and the Arts from the Angolan Ministry of Culture. In 2017, he received the Frieze Artist Award. Kia Henda is represented by Goodman Gallery, Johannesburg and Galeria Filomena Soares, Lisbon.
Works by Kiluanji Kia Henda courtesy of Galleria Fonti