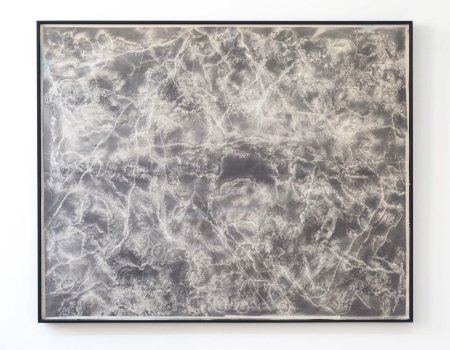 'Rhymes and Enantiomorphs' is a collaboration between Denitsa Todorova and Stephan Balleux on pictorial deconstruction and reconstruction.
The complex, ambiguous œuvre of Stephan Balleux reveals the artist's obsession with the mechanisms involved in the power of the image. Through an expertly analytical approach, Balleux turns the media environment to which we are all subjected daily into diverse artistic proposals, all of which rely on one invariable act: assembling miscellaneous images from films, press clippings, magazines, personal photographs, etc. into an artistic corpus where the construction of images through painting is turned into an existential metaphor. Stephan Balleux lives and works in Brussels.
The drawings of Denitsa Todorova are made up of different layers, like paintings. However, while a painter may try to suppress one layer with the other, Todorova aims to reveal by subtly removing parts of different graphite layers. The artist seems to sweep clean a painted window to let more and more light into the space of the viewer, making her drawing an access point to sunlight. What Todorova effectively portrays is both abstract and emotional. Her drawings are inspired, not by specific feelings, but a subjective investigation into the meaning of concepts such as "endlessness" or metaphysical queries.