Group exhibition
27.05 – 11.07 2020 at DMW Gallery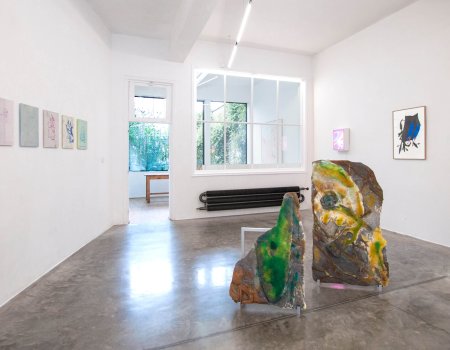 'this place / displaced' was a summertime group exhibition on estrangement in familiar places.
The expo brought together works of by Hadrien Bruaux | Fia Cielen | Filip Collin | Céline Cuvelier | Kaspar Dejong | Antoine Lortie | Natasja Mabesoone | Emilie Terlinden | Bas van den Hout | Markus von Platen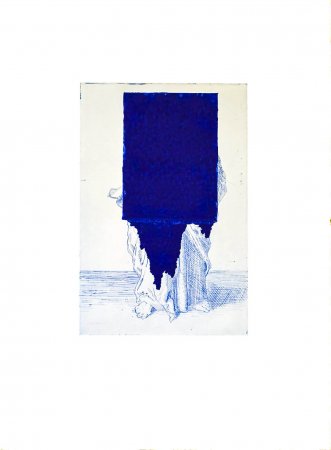 My work is speculation. I try to baffle, to dislodge codes, to design new proofs. The starting point is painting, and my way of looking at things is imbued with it. My work is pervaded by the questionings inherited from that discipline and touches upon images in the literal and figurative sense. I ask myself what the image is: its status and its materiality, what we do with it but also what it does with us. Images cannot do without certain problematics such as representation or perception. The former often impedes its autonomy and the latter refers to considerations of truth and reality, and especially to the importance of the viewer. My research is akin to the story of the man who broke a piece of chalk in two in an attempt to understand more about it and was surprised to find himself facing two questions rather than one answer.
It is vital for me to be many-sided. By taking care no to adopt the same device over and over again I force myself to conduct constant research, aiming to diversify mediums and techniques. Producing heterogeneous works, I attach considerable importance to the impact of an installation and its manifestation in space. This is the way in which I give meaning to my objects and allow the narrative to take place. Through the dialectics between the works I see to it that more meaning emerges. Thus all my pieces are conceived as different parts of one and the same organism, whose echoes vary as they are configured.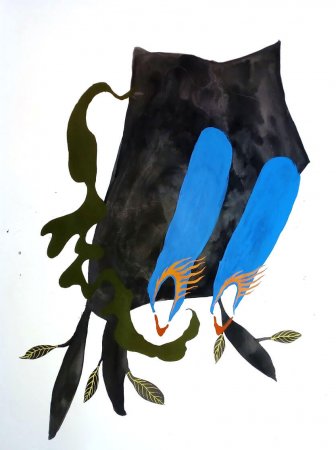 Fia Cielen makes drawings, sculptures, installations and monumental digital prints. An important recurring aspect in her work is metamorphosis. Cielen likes to introduce a natural element in the work that goes beyond her control, in an attempt to achieve a re-enchantment of a disenchanted world. The artist is particularly attracted by in-between states, transitory zones and the uncanny, which becomes evident especially in her drawings. They are populated by creatures that exist on the threshold between the human, the animal, and the elemental; beings on the verge of their next materialisation.

An important source of inspiration are masks – carnival masks, old folklore and ritual masks, ritual animal disguises. Masquerade as something that is ingrained in European culture, originating from a time before the christening of Europe, a remnant of times when the wild and magical were still part of daily life. Hiding one's face behind a mask is also a fitting metaphor for our modern culture, with its thin layer of civilisation, the wildness brewing underneath. In an over-regulated world, Cielen wants to depict the states in which we can reclaim a sense of wildness, as a means of expressing an intuitive feeling that estrangement can be intrinsically more natural.

Fia Cielen is represented by DMW Gallery. More info on her work here.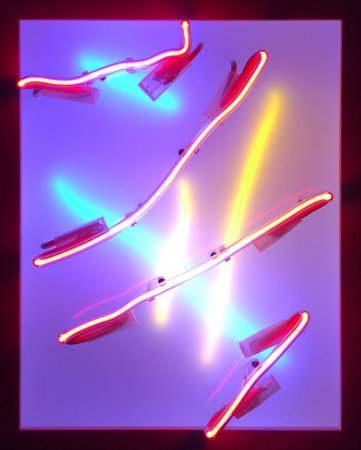 The works of Filip Collin more often than not find their origin in paper collages. The artist traces lines from his immediate environment on top of silk screen prints or layers of acrylic and gouache paint in primary colours. In the process, inspiration is drawn from natural elements: plants, sunlight shadows, flowers, turned into abstract forms to create new imagery based on contorting memories. The resulting shapes find their way into a range of materials, forming a disparate body of work with linear consistency. Recent applications see the artist experimenting with lasercutting and engraving wood and opaque Plexiglas with his distinctive coloured lines, resulting in yet a different variety of collage.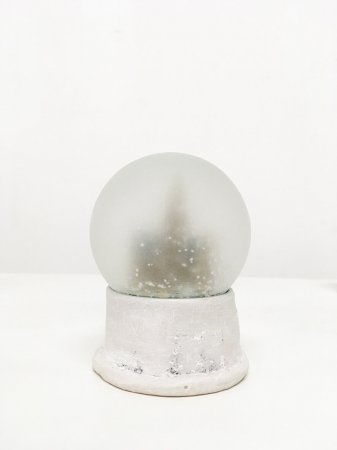 Tourism, immigration and their intersecting space. In this reflection articulated around our means and motives of movement, between painting, sculpture and installation, each of Céline Cuvelier's gestures proposes a cartography of them, trying to build a landscape. A hybrid territory is then sketched out, formed from experiences, expectations and pretexts, and from our unanswered questions as well.
There are those who go and those who come, visit or avoid. How far from here did my fullness fly away? My tranquility moves, sets safe distances, between me or the world. Images are added to numbers, numbers to experiments, holes in the chessboard are filled with the help of broken bishops. Everything is held in the hand, touched with fingertips, knots of fingers at the end of arms that swing. The joints crack in rhythm, we add a few filters and they make us dance.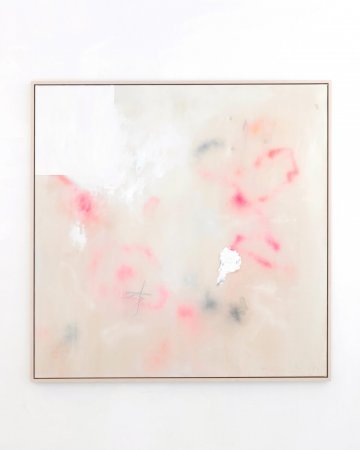 The work of Kaspar Dejong is in line with the semiotic tradition exploring and studying signs and symbols as a significant part of communications. By taking everyday signs out of their initial context and presenting them on the canvas, Dejong questions their message. White monochromes are partly disrupted by coloured dots, numbers and letters float between unsteady shapes and forms seem to have been erased unsuccessfully. With spray-paint, graphite, oil and acrylic paint he often uses letters or numbers to start off his compositions. On the often raw background of the canvas he suppresses, scratches and erases them and so creates with his scribbles, color areas and scratches an abstract new unknown language that confronts and confuses the viewer.
In his work Dejong refers partly to the imaginary order of the Israeli philosopher and writer Yuval Noah Harari: human beings are able to rule the world because we can create an imaginary world by inventing stories that we believe are true, but in reality, are fictional. Kaspar Dejong takes an interest in what we communicate in this imaginary order that seems so obviously real to everyone. He changes the meaning of signs and signals that are commonly understood and by doing so alienates us from their context and meaning. With his intriguing sculptures and paintings he creates a new and puzzling universe.
Catharien Romijn

Kaspar Dejong is represented by Josilda da Conceição Gallery.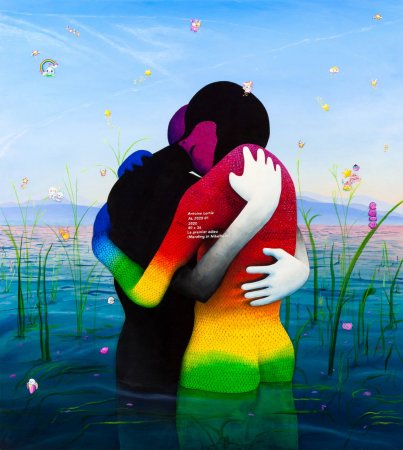 The existence in the surface is the motive of research in the work of Antoine Lortie. It concerns the thickening and hence the expansion of the aesthetic space as a method of approaching a negative ontology.
In its creative process, ways of moving digital content to analog support are developed through the intuitive and unpremeditated use of technological tools. This practice involves the retention of an ambivalent sensory state emanating from the co-existential nature of the transmediatic experience at the heart of its practice. The technological panorama of the new millennium is transformed into the primitive resilience of matter and pictorial tradition.
Lortie's work settles on cultural objects from here and before like a mushroom on a rock feeding on an unlikely source. The themes of the sarcophagus, the embalmer and the celebration serve to build a coffin for the future.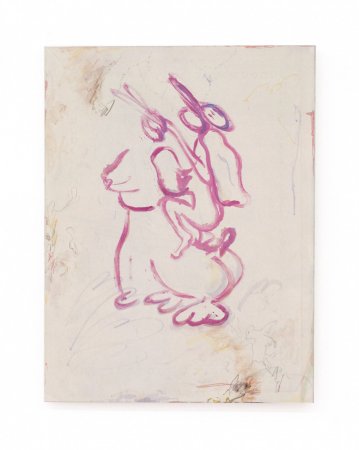 Natasja Mabesoone received a master's degree in visual arts from the School of Arts in Ghent and took part in the Wiels Residency 2019. Her work consists of layered etchings and drawings, often shown in a handmade frame. In the soft ground etchings, known by their French name 'vernis mous', various objects, like flowers, fabrics, and embossed paper, are pressed into a varnish before placing the plate into a mordant. This fundamental layer allows additional imagery (drawings or monoprints) to pass through, underneath or on top of a background made out of coloured soft ground etching. 
In each work, a different protagonist is staged using seemingly ingenuous depictions of everyday highs and lows. The narrative in Mabesoone's work does not necessarily require a plot. Rather, the narrative potential lies in the imagery, the materiality and the underlying cultural associations or imaginary and etymological framework. The artist's pictorial vocabulary derives from bus trips, cartoons, elements of board games, Hannah Weiner, the animal kingdom, the hermetic poems of Stephane Mallarmé, sudokus and word play.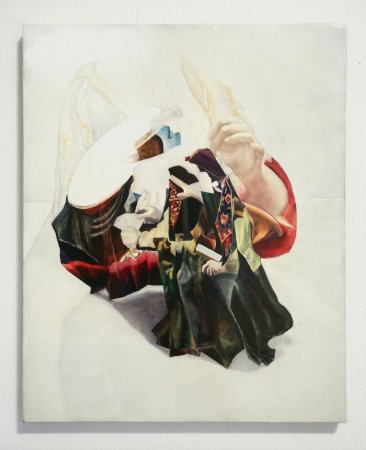 When I design a painting, the initial idea comes from my attraction to specific images, objects and places. I have a strong interest in documents reproducing works of art from the Renaissance to the 20th century, especially books, magazines and brochures. Sometimes I also use images of everyday objects. I cut the subject out of its context and then begin a series of experiments on it: transfiguring the images by folding and staging them in order to photograph them from different points of view.
This progression through various mediums is essential in my engagement with the pictorial subject. The support itself is prepared in successive layers: the preparation of the canvas initiates the painting process, its structure affects the aspect of the paint applied on top of it. Thus, a same image can offer an infinity of variations. My interest in pre-cinema has enriched this process through the use of devices of my own manufacture, allowing me to immerse the images in a singular atmosphere.
The notion of time is essential to me. Throughout my development, I created a slow practice which, in times where long-time creative processes are rarely encouraged, I consider it a statement as a contemporary artist.

Emilie Terlinden is represented by DMW Gallery. More info on her work here.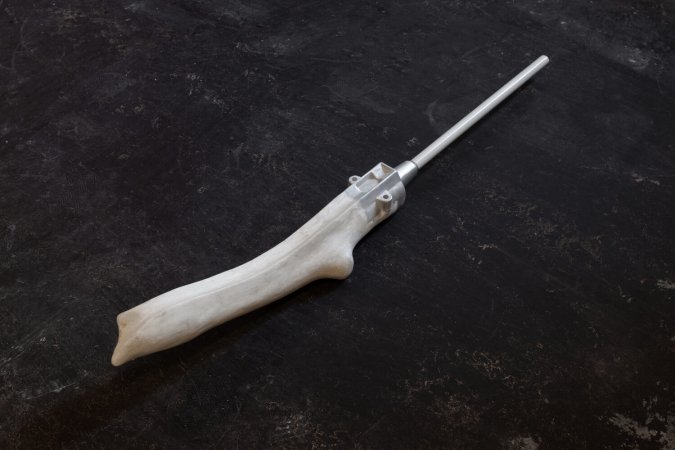 In my work I investigate personal memories and stories that can be understood through the collective unconscious. I am interested in the objects that surround us and how, removed from their original context and function, they are able to generate a metaphorical or archetypal meaning. By developing a relationship with an object, exploring its appeal and the interaction between meanings and personal thoughts, I hope to be able to reveal the aspects that interest me. In my approach I look for the border where language seems to end and its exactness comes into question, as a bygone memory, something that has eluded you. My work speaks of a feeling, or a thought, that can no longer be traced back to its origin. A moment of recognition and alienation.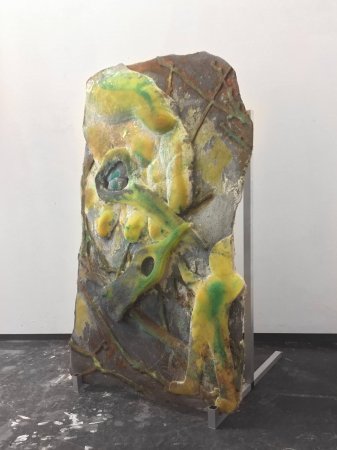 Markus von Platen's practice circulates between sculpture, moving images and sound. Through his work he interprets how we, humans with a limited life span, understand and relate to objects and their ontological status in time and space.
The artist's works are alienated and decontextualized hyperobjects in which industrial materials, views of modernist sculpture, and reflections on display and presentation come together. No "thing" or "object" exists in von Platen's installation as a self-contained category, but rather as an element placed or set up in a chain of events: either they do not appear to be in their place, or the place where they are is the right one but the objects are "wrong." The things seem to be moving as props. As if they were waiting for a possible moment when they will be used or waiting to be employed in a drama.