Group show opening 14 January 2021
Izabel ANGERER | Anneke EUSSEN | Werner MANNAERS | Joke RAES | Guy ROMBOUTS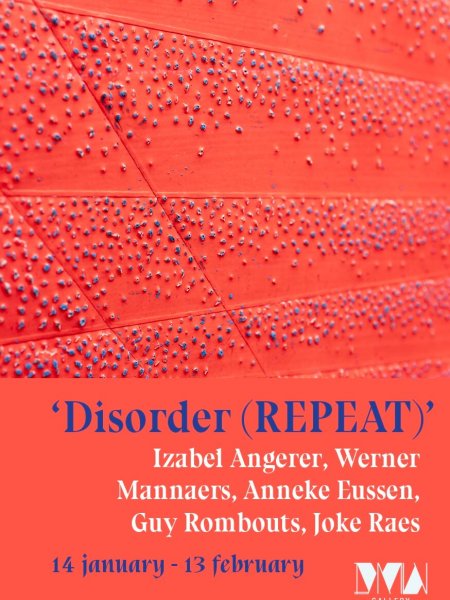 DISORDER (REPEAT)

A group show with works by
Guy ROMBOUTS | Joke RAES | Izabel ANGERER | Werner MANNAERS | Anneke EUSSEN

Disorder (REPEAT)' brings together the work of five artists in a group exhibition on disorder as a hallmark of the creative spirit. Works of art as the end result of a process in a disorganized environment in which the mind is freed from habits, trying to formulate new answers to the challenges presented by our reality. Repetition as a principle to create order out of chaos, directly or indirectly. Not always recognizable for the viewer, but always deliberate and unique for each artist.
For one this translates into an abstracted corpus of lines, points and punched holes, for the other a methodical use of the alphabet as the ordering principle of language. Or: subtle variations on patterns in marble and glass, into which environmental elements are ingrained; recurrent text fragments crossed out and interspersed with historical references; a conceptual practice that blurs the boundaries between man and the natural environment.
By bringing together all of these at first sight discrete practices of distinguished artists, the works presented here reveal themselves as a whirlwind of ideas, in which chaos is deliberately allowed to become a mechanism for decisions and innovations to be reproduced organically and repetitively.
Preview 13 January by appointment from 4-8 PM
Vernissage 14 January from 6-9 PM
Borger 22 January from 6-10 PM
Finissage 13 February from 2-6 PM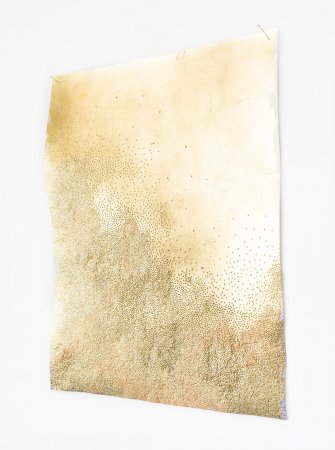 Antwerp artist Izabel Angerer (b. 1969, Innsbruck) explores delicate and poetic compositions in drawings that resemble abstract spaces. Her works on paper are grounded in repetition, depicted as 'long walks without a preconceived goal' in which each step taken leads to a result different from the sum of these steps. Small dots, lines or punched holes are similar and yet distinctive in form and color, placed in close proximity and thereby forming a vibrating unity. At first glance, the result suggests a still image, but a closer look reveals a dynamic and noisy vibration. The artists' works arise in the conflict between the desire for silence, loneliness and the urge to interact with others. They are looking for an exchange, created to attract attention and thereby strengthen the senses.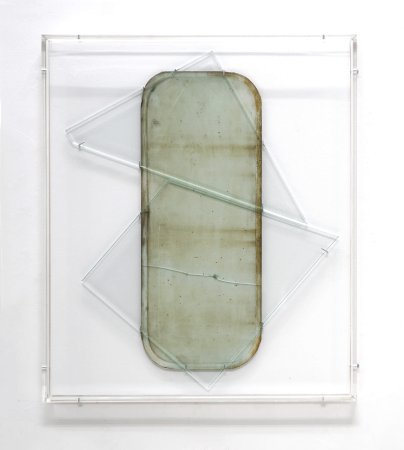 The extensive oeuvre of Anneke Eussen (b. 1978, Vaals) moves between architectural installations, objects and drawings. She is fascinated by the changing value and nature of what surrounds us, and transforms found objects and materials into new compositions. Eussen explores the changing definitions of beauty and the fine balance between observation and judgement. According to the artist, the power of the artistic process lies in the transition of materials. The transition leads to new points of view and thus inspires progress. Eussen presents a series of glass works of windows from construction and military vehicles that have been preserved for more than 60 years, sometimes in combination with new glass. She processed the traces of moisture, rain, dust and rust as a unique signature in each individual surface, creating compositions in which time is essential. With a minimal selection of actions, Eussen brings a tension between materials, between controlled and uncontrolled action. By reallocating the materials, their meaning is rearranged, creating different perspectives on existence.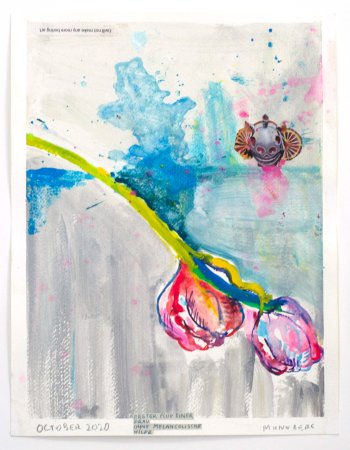 The oeuvre of Werner Mannaers (b. 1954, Schoten) has been developing since the 1980s and can be read as a highly personal pictorial investigation. His improvising method leaves room for playful associations of motifs, signs and language. Mannaers does not conceal trial and error during the creation process. On the contrary, it is an essential part of his aesthetics. In his drawings this is expressed in the conscious omission of strikethrough text fragments. Mannaers' painting is interspersed with various art historical references, which he then links to philosophical quotations or elements from popular culture. This technique of 'sampling' creates a layered context that allows the artist to soften the often existential theme with irony and self-mockery. (Text by SMAK)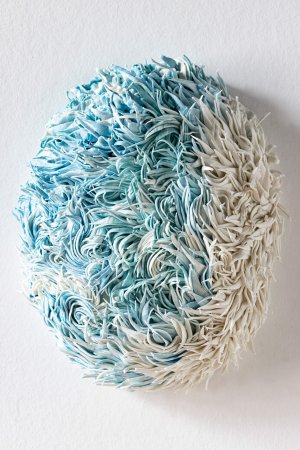 The imagery of Joke Raes (°1983, Bruges) is recognizable by its attention to biomorphic fluidity and detail. Her artistic research originates from the curiosity about the bond between man and nature. This fascination translates into drawings, watercolours, ceramics, performances and sculptures. Often the concept directs the medium, which is realized in a wide variety of labour intensive techniques and materials. Raes always searches for the limits and tactile possibilities of these materials. Substantively, this approach translates into a tension field between inside and outside, concealment and revelation, and fragility of man in relation to nature and space. With her eclectic, tactile use of materials, the distinction between nature and culture blurs before our eyes. In essence the concepts cancel each other out: in Raes' work man disappears into nature; at the same time nature disappears through man's actions.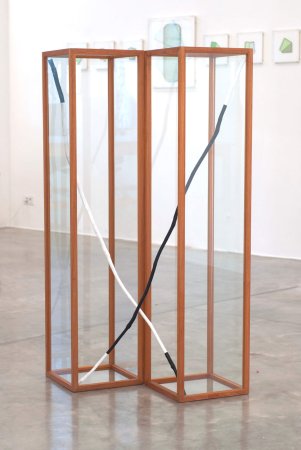 Since the early 1980s, Guy Rombouts (°1949, Geel) has consistently blurred the existing boundaries between words and objects. The idea of having objects speak for themselves is both a drive and utopic horizon behind his artistic practice. The result is a body of work that is idiosyncratic, poetic as well as conceptual. The artist's very own bounded set of ideas has become a kind of art-producing machine: his 'concepts' make his works come about more or less automatically. The result is never egotistic, but invariably particular and tactile. Rombouts' work — he is the son of a printer and trained to be a typographer — is rooted in a fascination with the shapes and the stuff language is made of. In his practice, the artist seems to make a comment on how the flatness of letters and words can create a reality and make that reality non-existing without the words, in line with what the "linguistic relativity principle" suggests.