13 May – 20 June 2021
Klaas Rommelaere invites Manon Kündig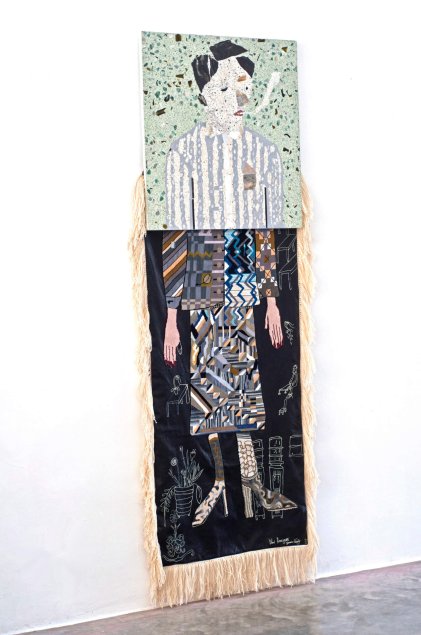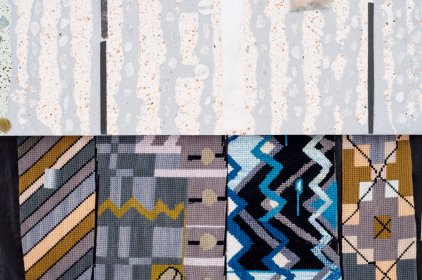 CADAVRE EXQUIS
Klaas Rommelaere invites Manon Kündig for an act of unconscious collaboration.
The title of the exhibition is taken from the surrealist practice of an unplanned, gradual construction of a group composition where one participant contributes without knowledge of the previous steps of others, and without following specific preconceived rules or methods. 
Applying this mindset to their collaboration, Klaas Rommelaere and Manon Kündig craft a duo exhibition from a varied mix of media and approaches, combining them into a single work of art. Compositions are developed in horizontal sequences contributed by both artists, creating a grouping of images collectively assembled.
Every piece of the exhibition has come about as a combination of the unique approaches developed by Klaas and Manon. Klaas makes embellished textiles with embroidery on cotton and finishings like curtains and tapestries. In the beginning, Klaas embroidered his stories onto the canvas completely by himself, which took days and weeks at a time. Eventually, he started to work together with the 'Madames', a group of elderly ladies from his hometown who have happily helped him ever since, allowing absurdly bizarre scenes of handcraft-pop to result from cross-stitch, crochet and knit. 
Manon makes reverse concrete paintings. Reverse painting is an art form used in sacral paintings since the middle age. Originally made on the back of a glass panel in which the details are placed first and the background last so that the finished work may be seen correctly from the back side. Applying this approach to naturally pigmented concrete, the finished pieces are a play on materials that demonstrate their own structural and internal qualities. The composition of materials makes the image. Like an accumulation of everything Manon absorbed over time, the approach is technique driven. Repurposing among others, natural stones cutting waste from gravestones and kitchen countertops, donated broken flower vases, oyster shell and bottles of wines shared with friends, the integrity of the burnished matter makes the picture not a surface finish. They are slices of 3 dimensional remains immersed, preserved and flattened into 2 dimensional images. Cross-sections of colourful masses displaying their guts to the viewers. 
Both artistic approaches are reminiscent of decorative acts. There is a certain level of unpredictability, surprise and spontaneity not only in the final collective juxtaposition but also during the primary inception of the separated elements.  Either due to the final assemblage of the "Madames" separated embroideries or the material removal from the concealed reversed concrete paintings. The unconsciousness of a true cadavre exquis is omnipresent. The outcome of the final pieces is revealed gradually during the whole creation process. The final result depicts figures that lie in waiting, which nowadays is all we appear to do. A reference to waiting non-spaces like office lobbies and airports, where time does not exist and you can disappear into an anonymous no man's land. 
A state of non-being.
Vernissage 13 May 2021 from 6-9 PM
Preview on 12 May 2021 by appointment from 4-8 PM
Finissage 20 June 2021 from 4-8 PM