IS THERE ANYBODY OUT THERE?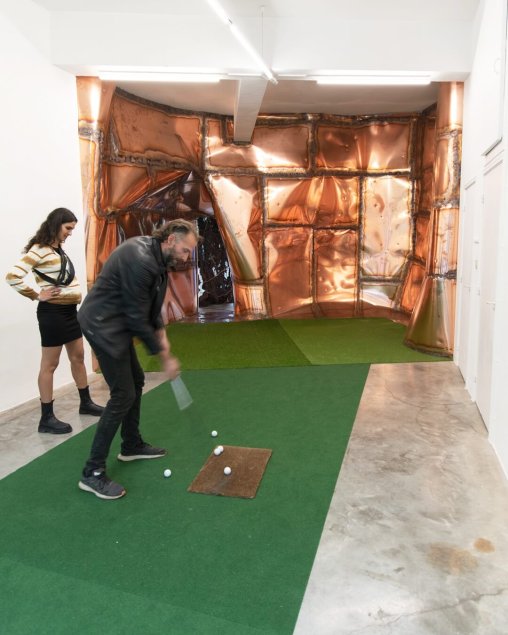 IS THERE ANYBODY OUT THERE?
MARIUS RITIU | 16.09 – 23.10.2021
"If you wish to understand the Universe, think of energy, frequency and vibration."
Nikola Tesla
The solo show 'Is there anybody out there?' by Marius Ritiu gravitates around the above quote by Nikola Tesla; as does his artistic practice in general. Questioning geographical and mental borders, and celebrating the world in its complexity and ambiguity, Ritiu seeks to create new points of connection between the immensely varied human experiences. Mainly working with copper, Ritiu builds his practice on the material's unique physical and philosophical characteristics. A wonderful conductor of energy, copper has been valued and used in various industries throughout the centuries, starting with some of the oldest civilizations on record.
On the occasion of his current solo exhibition, Ritiu presents a monumental indoors installation made of copper plates. Reflecting the light as well as the occasional golf ball, their shiny surfaces operate as a peculiar visualisation of sound waves. This is made apparent when visitors accept the artist's invitation to use the installation as a canvas at which to take aim with a golf club. The impact of the golf balls on the copper plates is transported to the adjacent room, where a barrage of pedals turn the crashing noise into a soundscape that evokes otherworldly connotations.
Is there anybody out there? Or is it the artist himself trying to go beyond the limits of human communication and reach the extra-terrestrial? Observing ourselves in the mirror-like surface of copper and shaken up by the disturbing vibrations, we are invited to reflect on our own starting point in relation to the Other (Ekaterina Vorontsova).
VERNISSAGE Thu 16 Sept 6-10 PM
BORGER Fri 22 Oct 6-10 PM
FINISSAGE Sat 23 Oct 2-6 PM

Open every Thu/Fri/Sat 2-6 PM
Other times by appointment only