THE KNIGHT HAS FALLEN, THE DAWN IS RISING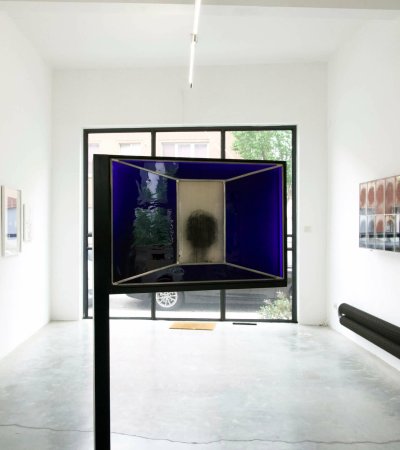 In 'The Knight Has Fallen, The Dawn Is Rising', Joris Vanpoucke invites Tim Volckaert for a duo exhibition at DMW Gallery centred on nature, landscapes and reflections of the self.

The themes of portrait and landscape in the works of Joris Vanpoucke establish themselves as an urgent means of expressing the inner world of the artist. His works do not try to hold on to reality but rather reveal an attempt to destroy it; they do not try to perpetrate reality through observation but rather offer a transformative insight behind the surface of existence. The landscapes become a realisation of imaginary, stormy worlds. Nature transpires as a metaphor for the emanation and elimination of life, the search for the darkness of being, the essence of the cosmos. This evolution, this quest for identity is juxtaposed with the immediacy and transience of the mundane, and plays out on the edge of existence, as an observer hoping for the dissolution of time.

Likewise, the image of 'the landscape' is often the starting point for the drawings, sculptures and actions of Tim Volckaert. The landscape in the qualification of 'world space' that serves as a backdrop to comment on the struggle of man with his environment. As a critical reflection constantly fed by current affairs and environmental problems, the poetic work of Tim Volckaert also articulates a sharp, accurate vision that is rooted in everyday reality, placed in a historical perspective.
The collaboration between Joris Vanpoucke and Tim Volckaert at DMW Gallery was concluded by the presentation of a multiple by Vanpoucke. For more about the multiple and its availability, see the section 'Duo Show Multiples' on this site.